Geri is currently working as an apprentice joiner in Warrington.
Geri left school with no qualifications and was not sure what sector she wanted to work in, receiving little support to pursue alternative options asides from the "traditional" female employment opportunities. It was after watching plasterers carry out work in her own home than Geri realise it was something she would like to achieve and wanted to work in a 'hands on' environment. Geri enrolled herself in a short construction course' for women only, specifically designed to encourage more females into the construction sector.
The course covered aspects of bricklaying, plastering, tiling, joinery, and painting & decorating. Geri undertook hands on learning in addition to building a great network of fellow female participants for support. Although the course provided Geri with some foundation knowledge into construction unfortunately following the course, she was unable to find an employer to take her on.
The WaMT team at Procure Plus had apprenticeship opportunities with The Casey Group and met with Geri to discuss her options. It was clear Geri was passionate about working in construction so Procure Plus arranged some training for interview skills and infection control to support working in a safe COVID-19 environment, and this support helped Geri prepare for her interview with The Casey Group.
Geri impressed at her interview, demonstrating her drive and desire to just 'be given an opportunity' in construction. Geri was offered the position and is now completing her level 2 qualification, attending college on day release every Monday.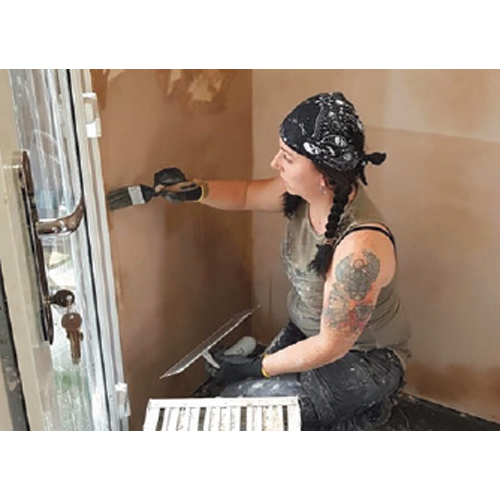 What does Geri say?
"With the help, encouragement and support that I have received, I have been able to pursue a passion of mine and gain an apprenticeship in the construction industry. This has put me back into employment, in a position I thoroughly enjoy, in a routine which has substantially improved both my mental and physical wellbeing. I would highly recommend the service to others as the ongoing support has been key to my success in achieving my goals."
Phil Robert from Torus Foundation who delivered the training says:
"It has been a privilege to work with Geri on the Women in Construction programme. The enthusiasm and commitment she displayed throughout has been amazing. Her confidence has gone from strength to strength and she has successfully achieved her first career goal by gaining an apprenticeship in Joinery with Casey Group. She should be proud of herself for what she has achieved in such a short space of time and being a great role model for her children."
John Walmsley from the Casey Group says of their new employee:
"Geri has a lot of drive and is a welcome addition to our team. We are looking forward to supporting her through her apprenticeship."
hat does Geri say?