What is the 3:2 initiative?
The WaMT team has been working with housing providers and Procure Plus' clients in supporting more women into construction trades.
Stockport Homes agreed to employ two local full-time college students for two days per week, allowing them to continue their studies at college for the oother three days per week, whilst undertaking relevant work. Stockport College identified two students from their joinery course, Jenny Cooper and Gabby Bohajcuk, to fill these roles; Jenny was completing a level 1 qualification and Gabby a level 3 qualification.
WaMT delivered pre-recruitment training involving CV writing, interview preparation and mentoring. Interviews were arranged and Jenny and Gabby were successful in gaining the part-time positions! This is the 3:2 initiative.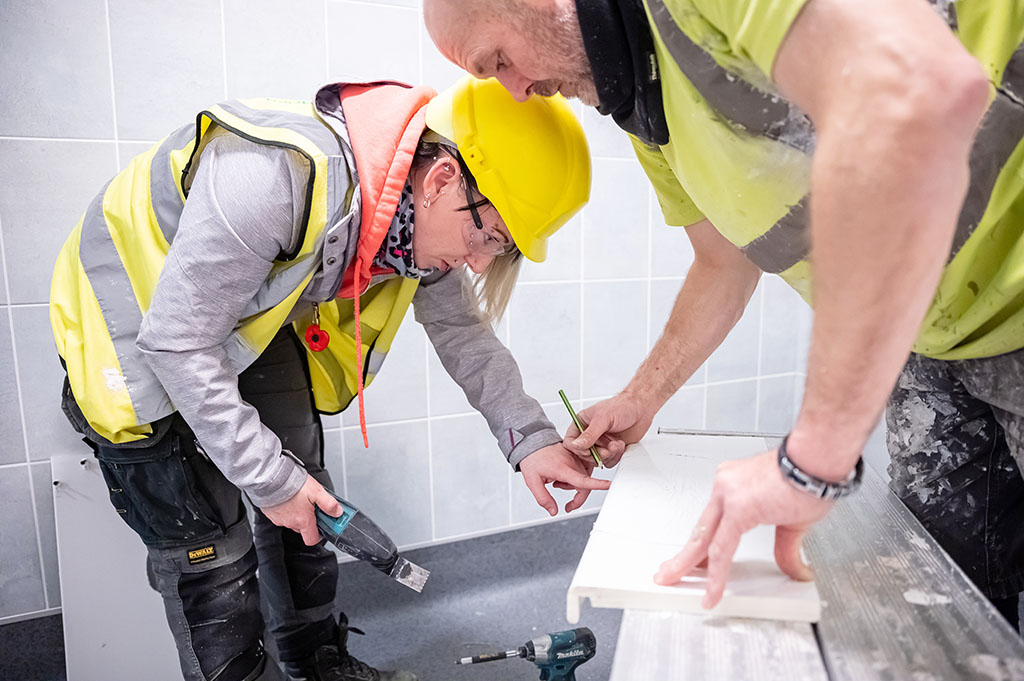 Q+A with Jenny and Gabby
How did you find out about the opportunity to retrain? What interested you both about it?
Initially WaMT approached Stockport College to target female students who were looking to develop careers in construction. We were very interested and could see the benefits of working with an employer to gain work experience.
Any challenges/barriers you faced (either training or employment)
It's fair to say that female students generally find it difficult to complete the training for construction trades, to complete the training all students are required to complete an NVQ and to do this they must be employed. The concept behind the 3:2 programme is to allow female students to gain experience in the workplace while completing the college element of the training. This experience was invaluable to us, as you gain an advantage in the recruitment process for apprenticeship positions by building relationships with the employer and understanding the culture of the business, skills and knowledge required ahead of any opportunities becoming available.
What support did you receive to help overcome these barriers?
We had a lot of pre-interview support and ongoing mentoring from WaMT whilst we were working part- time and completing our college course.
What did the training cover and what did you find most useful about it?
The training received from Stockport Home helped develop our skills and knowledge of joinery and gave us an understanding of the day to day tasks required within the joiner's job. The training boosted our confidence and supported a culture of great teamwork within the workplace. After working for Stockport Homes for six months, during which time we passed the joinery technical certificates at college we were invited to apply for apprenticeship positions. This was an open recruitment exercise and over forty candidates applied for the positions. Five candidates were interviewed and we were both successful.
What role have you gone into now?
We are now both employed by Stockport Homes as apprentices and will continue our studies at Stockport College to become fully qualified time-served joiners.