Meet Carmen Barlow
Growing up Carmen had always wanted to work in construction. Her Grandad was in the trade but he was always of the mindset that no women from his family would ever enter the industry. Fast forward then to Carmen's teenage years which saw her drop out of education and disengage somewhat, she found her own way into what she terms as "tomboy" jobs (despite her Mum's efforts to encourage her down the hairdressing route) ranging from factory work to then becoming SIA qualified and working in security at night clubs, boxing matches etc. In her own words, she never wanted a "girlie" job, always knowing that her heart was in hands-on physical roles.
Never really taken seriously when it came to Carmen expressing her desire to move into construction, she by chance found out about a local employability service (Homes for Humanity, based in Accrington) advertising on Facebook that they had access to funding linked to interviews and jobs in construction and that she should chat with them.
It was through the working partnership between Homes for Humanity and WaMT's parent company Procure Plus that within a week of the call being made, Carmen was booked onto her IPAF, PASMA, Confined Space, Working at Heights, Asbestos Awareness and COTS Health & Safety courses, along with a CSCS touchscreen test to attain her CISRS Scaffolders Labouring card – all funded through the Procure Plus being a CITB OSE (On site experience) HUB. An interview was immediately set up with Kate Kirk at Kirk Scaffolding who offered Carmen a job there and then.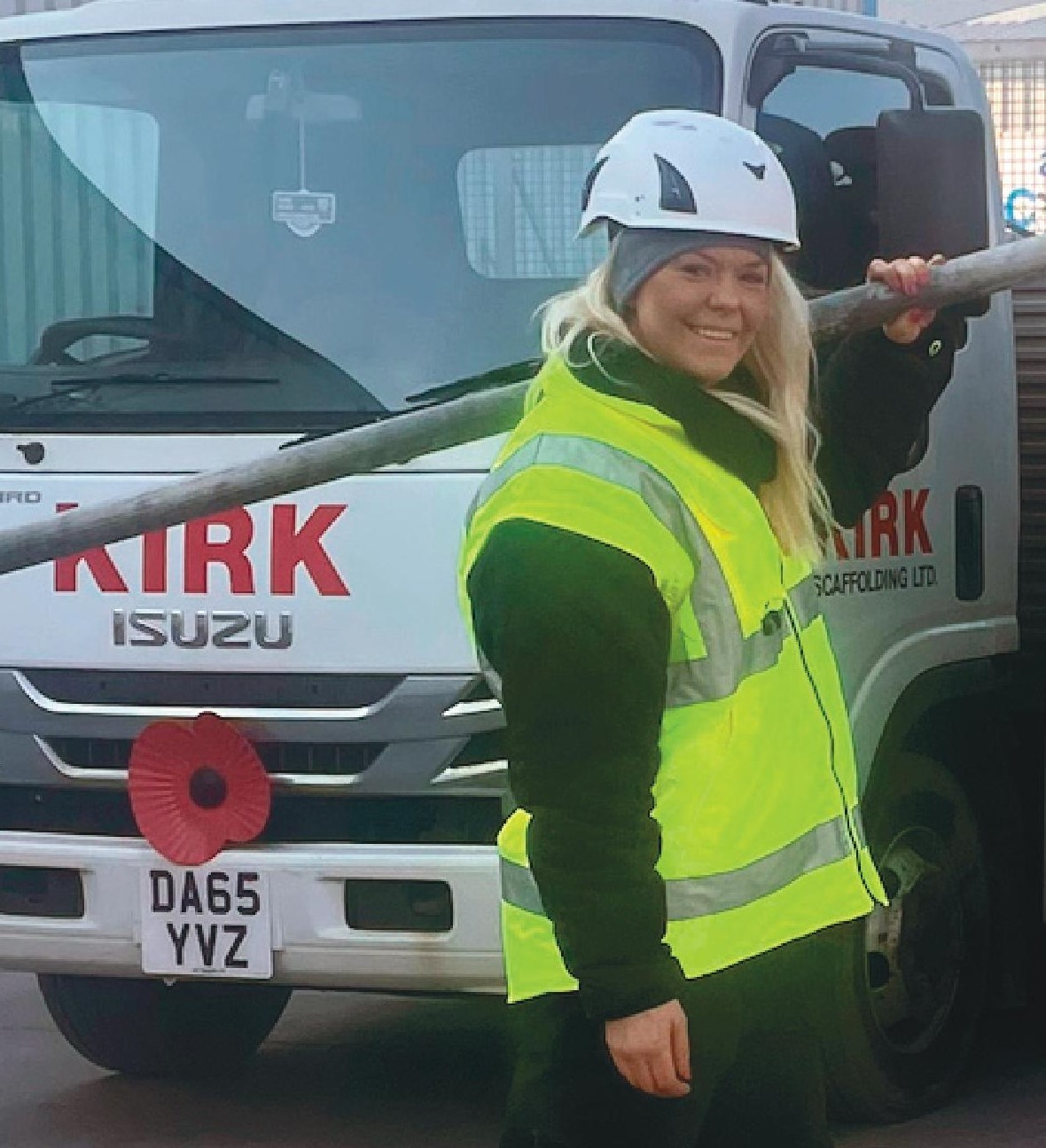 Who are Kirk Scaffolding?
Kirk Scaffolding is a leading scaffolding contractor operating throughout the north of England. A family-owned and run company (now in it's third generation) they have over 50 years experience and have built a strong reputation through those years for the quality of service they provide.
Engaging with the Lancashire OnSite Experience Hub
Located in Blackburn, Kirk have always been very focused on recruiting from the local community and offering opportunities for jobs and training locally where possible. This made them a perfect fit with Procure Plus being a "Hub" for Lancashire as part of CITB's OnSite Experience programme.  Kirk has been able to strengthen those community connections even more through the referral of candidates from employability services unknown to Kirk, together with the funding through OnSite Experience to enhance an individual's employability prior to them starting work on site, through the partnership with training provider Fulcrum Scaffold Safety – also based in Blackburn. To date, Kirk have employed 7 candidates through the OnSite Experience programme, with others now in progress.
And how is Carmen getting on?
Five weeks in and Carmen is loving her role, with the next steps being to train 'on the job' and to qualify through the NVQ stages to become a fully qualified scaffolder.
When asked what it is that she enjoys about working at Kirk Scaffolding, Carmen responds with a smile "I love the physicality of the job. I come to work, work hard, enjoy the banter, get to go to a different location every day and go home at the end of my shift knowing I've done a hard day's graft. I'm also learning new things everyday – what that piece of equipment is for and what that piece of equipment does, also getting to a site and us all working together to decide the best way to approach the job."